Smith County Schools will be hosting its 2nd community event to continue informing parents on trends in social media and how to protect and monitor their child's digital world. The topics for the evening will include The impact of cell phones on our children Popular and trending apps, vaults, and lockers Tips, software, and tools for providing a safe and monitored digital environment in your home Question and answer session for parents to consult the experts We look forward to seeing everyone there!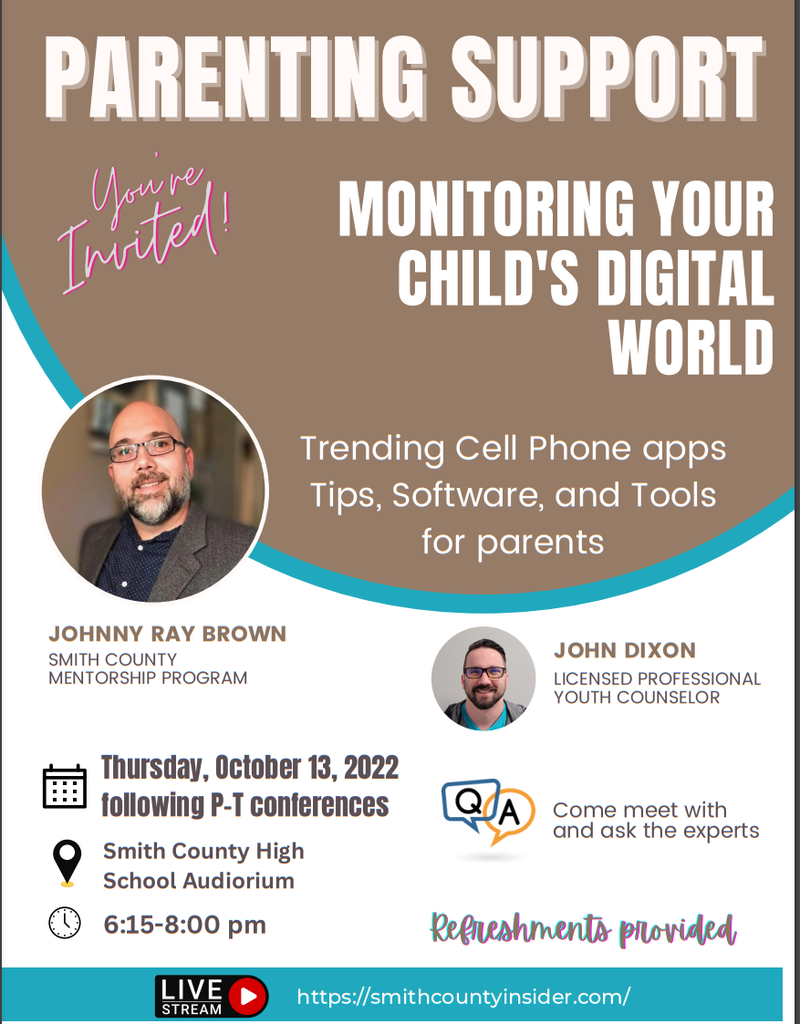 Kindergarten - 4th Grade Supply lists are available  on the CES website under the documents tab.

Dear CES Parents/Guardians, We are collecting pull tabs for the Ronald McDonald House. Each year the Ronald McDonald has an event in November where there is a contest between schools to bring in the most pull tabs. The Ronald McDonald House is able to get money from recycling the pull tabs. This money is used to help run the House. The Ronald McDonald House is run solely from donations only, so each pull tab greatly helps. Money from pull tabs is used for house operations. The RMH has helped so many families throughout the years including families in Smith County. Please send in your pull tabs. Pull for the RMH! Thank you for your help! CES Teachers and Staff

OWL'S NEST CES Afterschool Program Carthage Elementary School has once again received a grant from TN 21st Century Community Learning Center for an after-school enrichment program. Owls Nest will meet Monday through Friday mornings from 6:45-7:45 am, and Monday through Thursday afternoons from 3:00-5:00 pm. You have a choice to apply for mornings, afternoons, or both. This program is offered to all students in grades 1-4. This year we are accepting Kindergarten. Kindergarten students who have siblings already in the program will have top priority. Afterschool begins on August 16, 2021. Students participating in the morning program will: · Receive homework help and/or tutoring · Be allowed to get breakfast in the cafeteria as normal Students participating in the afternoon program will: · Receive a nutritious snack · Improve reading skills · Practice math and computer skills · Receive homework help and/or tutoring · Engage in healthy activities/exercise · Interact socially If you would like for your child to register for one of the limited spots in Owl's Nest program, please complete the registration form on our school website. Registration opens up August 6th.
https://www.smithcoedu.com/o/carthage
Click on the Menu tab at the top Look under students section find Owls Nest Click the on Owls Nest Then click on OWL'S NEST FORM at the top of the page to complete an online registration. If you have any questions, please leave a message at CES 615-735-0433 for Sarah Jenkins, or contact Kristie Glover at Smith County Board of Education 615-735-9625. Sarah Jenkins, Site Director

We are excited to announce our new website! The Live Feed is where you can find important updates and fun stories about what's happening in school. We hope you enjoy the new site and find it easy to navigate!