SMITH COUNTY SCHOOLS
CTE PROGRAM GUIDE
Tennessee students have an unprecedented opportunity to prepare for entry into the workforce with education and training beyond high school through the Tennessee Promise. Tennessee is committed to expanding the number of high school students earning early postsecondary course credits and industry certifications and to broadening the reach of these opportunities to include students who lacked access in the past. Today's Career and Technical Education (CTE) begins early preparing youth and adults for a wide range of high-wage, high-skill, high-demand careers. The CTE framework includes career clusters and within each cluster are Programs of Study that align with industry groupings of occupations with similar domain knowledge requirements.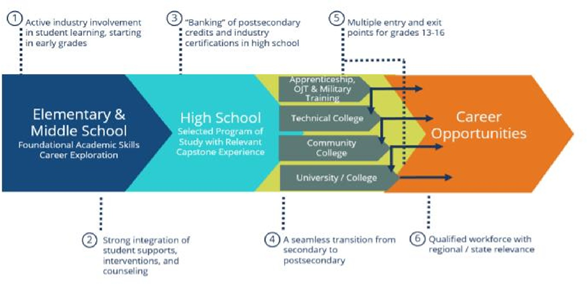 CAREER CLUSTER AND PROGRAMS OF STUDY
There are currently 16 Career Clusters as defined by the state that represents broad categories of occupations and broad industries based on commonalities. Expectations at the pathway level represent the skills and knowledge, both academic and technical, necessary to pursue a full range of career opportunities within a pathway— ranging from entry-level to management, including technical and professional career specialties.
Programs of Study are meant to provide a relevant framework of industry-aligned, rigorous courses that progress a student in knowledge and skills year after year. They provide invaluable opportunities for students to experience a subject they are passionate about and explore interests that lead to postsecondary learning and future career paths. These sequenced courses also reflect and support the three-credit EFA requirement for graduation. For a full list of all endorsed by the Tennessee State Board of Education visit TN Department of Education CTE Career Clusters.
CTE CONCENTRATOR VS. COMPLETER
Effective in the 2020-21school year, the definition of a student who concentrates (or has a focus of study) in CTE was updated. The revised definition requires that a student who concentrates in CTE must earn two or more credits in sequential order within one program of study. Course sequences are structured to build upon the knowledge and skills obtained from one course to the next.
Elective Focus Area
An elective focus area is a graduation requirement designed to help better prepare students for college and the workforce. The requirement is to take three-course credits in one of the focus areas. Courses are generally sequenced, and some may require pre-requisites. Rising Freshmen are required to select an elective focus area, but this may be changed in subsequent years. Students should work with their School Counselor(s) to determine the most appropriate plan that will align career goals and meet the Tennessee graduation requirements.
Students should work with their school counselor to choose the most appropriate program that most aligns with their career interests.
Agriculture, Food, & Natural Resources

Agriculture, Food, & Natural Resources

Agriculture, Food, & Natural Resources

Arts, A/V Technology, & Communication

Business, Management, & Administration

Law, Public Safety, Corrections, & Security

Science, Technology, Engineering, & Mathematics

Transportation, Distribution, & Logistics

Agricultural Engineering & Applied Technologies

Veterinary & Animal Science

Teaching as a Profession (K-12)

Criminal Justice & Correction Services

Automotive Maintenance & Light Repair

Gordonsville High School

Smith County High School

Gordonsville High School

Smith County High School

Gordonsville High School

Smith County High School

Gordonsville High School

Smith County High School

Gordonsville High School

Smith County High School

Gordonsville High School

Smith County High School

Gordonsville High School

Smith County High School

Gordonsville High School

Smith County High School

Gordonsville High School

Smith County High School

Gordonsville High School

Smith County High School

Gordonsville High School

Smith County High School

Gordonsville High School

Smith County High School