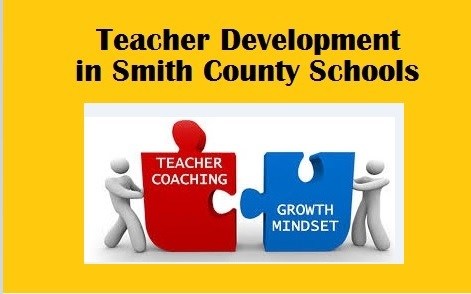 What research says about effective teacher development...
Research shows that an inspiring and informed teacher is the most important school-related factor influencing student achievement, so it is critical to pay close attention to how we train and support both new and experienced educators. Significant and sustainable change in practice is an ongoing process and it takes time to implement and reflect on new practices.
In this high-stakes era of higher standards and teacher evaluations based in part on student achievement, professional development has to have a laser-light focus on one thing— student learning.
The real challenge Smith County Schools faces is how to create opportunities for teachers to grow and develop in their practice so that they, in turn, can help students grow and develop their knowledge and ability to think critically.
Research suggests that effective professional development abides by the following principles:* Smith County Board of Education values these practices and upholds them in implementation.
The duration of professional development must be significant and ongoing to allow time for teachers to learn a new strategy and grapple with the implementation problem.
There must be support for a teacher during the implementation stage that addresses the specific challenges of changing classroom practice.

Teachers' initial exposure to a concept should not be passive, but rather should engage teachers through varied approaches so they can participate actively in making sense of a new practice.

Modeling has been found to be a highly effective way to introduce a new concept and help teachers understand a new practice.

The content presented to teachers shouldn't be generic, but instead grounded in the teacher's discipline (for middle school and high school teachers) or grade-level (for elementary school teachers).
*Center for Public Education (2013)